Reality Junkies
The best roleplay/reality sex website available online today.
Todays Top Pornstars in real life fantasy scenarios such as
Nurse Fantasy, Babysitters, Cuckolding and More.
Also get access to the whole network of adult sites.
11/10/2017 12:00 AM
Friendly Touch - Jaye Summers & Ricky Johnson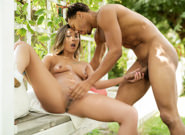 Ricky has always been a faithful boyfriend, but when his high school sweetheart leaves for college temptation is too close. His next-door neighbor, Jaye, is keeping him company and being the best friend, too bad his body wants to fuck her tight teen pussy! He won't cross that line though...until they have a couple drinks and her sexy ways prove too much for this horny stud to deny.
11/03/2017 12:00 AM
The Unicorn Special - Mick Blue & Sophia Leone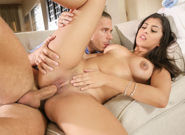 Exotic beauty Sophia is looking too cute in her favorite unicorn pajamas while lounging at home eating pizza. Her stepdad Mick arrives home surprised to find her not at school. He jokes with her about her little kid pajamas and Sophia decides it's time to show her hot step daddy just how grown up she is. Sophia is all woman as she rides his big cock till Mick cums hard on her flawless body.
10/27/2017 12:00 AM
I Need A Ride - Codey Steele & Alison Rey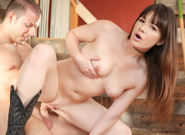 Cutie Alison Rey has the hots for her stepbrother Codey Steele. She also needs to borrow his car. He is not having it at all! She tells him she doesn't want his car, what she really wants is his rock hard cock down her throat and pussy! This is an offer no stepbrother could ever refuse!
10/20/2017 12:00 AM
Need Of Discipline - Mick Blue & Kristen Scott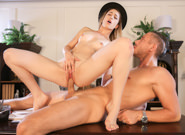 Kristen Scott has a huge problem with keeping her focus on her studies. She is constantly in trouble with her tutor Mick Blue. It's time to teach her a lesson! Maybe once she takes his experience cock in her young pussy, it'll be easier for her to pass her lessons! Sometimes sex and spankings are all a girl needs!
10/13/2017 12:00 AM
My New Neighbor - Isiah Maxwell & Caroline Sweets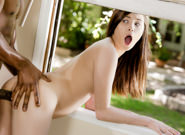 Carolina is curious about her new neighbor and decides to snoop around his house. While peeping through his window she finds her ultimate fantasy. Her neighbor, Isiah, is gorgeous and his big black cock is on full display for her as he masturbates unaware. Carolina is so horny she begins fingering her wet pussy, getting so noisy Isiah discovers his naughty teen neighbor. She is ready for a deep dicking as he fills her hot little holes with his BBC!
10/06/2017 12:00 AM
It's Better the Second Time - Tyler Nixon & Avi Love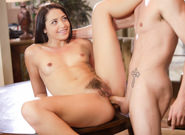 Cute teen Avi is so frustrated, all her girlfriends at school love having anal sex...she doesn't know what all the fuss is about! The one time she tried with her ex it was a disaster. Her boyfriend Tyler is happy to show her the second time is the charm. Plus, what horny dude can say no to burying his dick in that tight backdoor! Tyler eases into Avi's ass and has her cumming hard and begging for his hot cum!
09/29/2017 12:00 AM
I Don't Believe You - Jenna Foxx & Rion King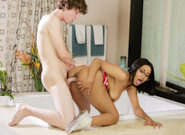 Stunning college tutor Jenna is late for her first tutoring session with the hot, young football star Rion. She arrives to find no one to let her in...but the sound of the shower leads Jenna to peep on the hot hung stud. Her friends will be so jealous so she takes another look while touching herself. Rion is working his cock over and has more than tutoring in mind for the voluptuous hottie as he takes full advantage of her wet pussy and big natural breasts, pounding her hot holes!
09/22/2017 12:00 AM
Feels So Real - Tommy Gunn & Emma Hix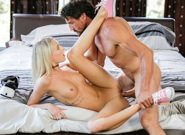 Tommy Gunn has the house to himself and is ready to jerk off to some virtual reality. His step daughter Emma Hix comes home unannounced and decides to play a little joke on Tommy. Giving him her pussy instead and letting him have an extra real experience. One he will never forget!
09/01/2017 12:00 AM
Thank You For The Ride - Tommy Gunn & Rylee Renee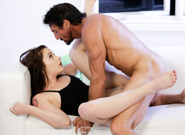 Rylee Rene, a young teen just caught her boyfriend cheating with her best friend. She quit her camping trip in a rush, but she doesn't know where she will spend the night. Rylee is a lucky lady. Tommy Gunn, on his way to his daughter's birthday and decided to invite her over. She will gladly accept the invitation and find a nice way to repaying his kindness but sucking his dick and letting him fuck her like the little newly single slut she really is!
08/25/2017 12:00 AM
Ride Me Like A Champ - John Strong & Summer Day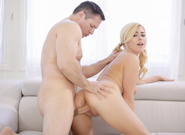 Summer Day, finds herself walking on the side of the road with a suitcase in her hand. She just dumped her boyfriend so he left her on the side of the road. Now she's looking for a ride and maybe a nice strong cock to make her forget her broken heart. Summer is lucky she runs into John Strong at the perfect time. He's an amazing stud who doesn't give a shit; he's happy to give her the rebound sex that her pussy is craving! A new cock always makes the day so much better!
08/24/2017 12:00 AM
CUMSHOT-Mommy Swap - Krissy Lynn & Danica Dillon & Kiki Daire & Deanna Dare & Donnie Dakota & Brad Sterling & Nathan Bronson & Jake Adams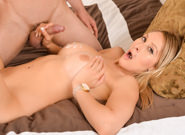 Krissy, Kiki, Danica and Deanna getting showered with cum.
08/24/2017 12:00 AM
From Boys to Men! - Deanna Dare & Brad Sterling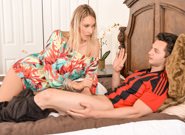 Deanna and her son Donnie are visiting Krissy and her son Brad after a great soccer tournament. Brad needed to go to his room to finish his homework before it's due the next day...while Donnie waits for him by playing video games in the other room. Both moms are busy gossiping in the kitchen....they get turned on talking about each other's son and decide to visit each them in their respective rooms for some risque fun.
08/17/2017 12:00 AM
Don't Tell Mommy - Krissy Lynn & Donnie Dakota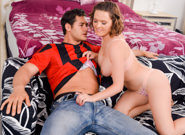 While Donnie Dakota is playing video games Krissy Lynn takes the opportunity to seduce the young stud by showing him how a real woman takes care of him. She sucks on his big cock and lets him get deep inside her thirsty pussy! They better keep quite before anyone finds out what they're really doing before closed doors!
08/11/2017 12:00 AM
My Dirty Little Geek Part 2 - Holly Hendrix & Ryan Ryder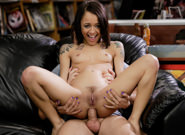 Holly Hendrix and Angel Smalls are working in a comic book store. When Angel Smalls leaves in the back store with Lucas Frost, Ryan Ryder enters the store. She recognizes him from all the porn movie she watches. She's made herself cum so many times thinking of him. She takes the chance and has to tell him how much she wants him! Everyone knows that Ryan Ryder will do anything for his fans so, Holly closes the store for a few minutes and she lets Ryan will ride her ass like a champ. Slamming and pounding it hard till they're dripping with cum! This is a day at work she will never forget!
08/10/2017 12:00 AM
All Grown Up - Kiki Daire & Jake Adams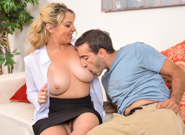 Kiki Daire is extremely turned on by Danica Dillion's son. How much he has grown up. She needs to get her hands on him! She wants her pussy all over his young cock! Watch as this mature mommy shows this young stud that nothing comes close to fucking an experienced MILF. She blows his load leaving him bursting into cum like never before!
08/03/2017 12:00 AM
Mommy's Boy Toy - Danica Dillon & Nathan Bronson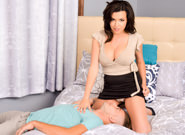 Danica Dillion calls her friend Kiki and her son Nathan Bronson over...she needed her son Jake Adams and his friend Nathan to lift and assemble the new furniture in the big box she ordered online. While the boys assemble the furniture. Danica and Kiki talk in the kitchen about how the boys have grown up and how muscular they are now. Danica gets horny and ask Nathan to accompany her to the bedroom to help her with the curtains with the intention of seducing him.
07/21/2017 12:00 AM
India's Secret - India Summer & Lily Adams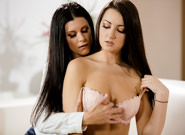 Young Lily arrives home, ready to come out to her Dad. Unfortunately he's gone on a business trip. Lily's sexy stepmother, India, wants to know how she's doing. India coaxes Lily's secret from her. While seducing the stunning teen out of her clothes India shares her own secret... she craves women too! Now India wants to devour Lily's perky breasts and slick, wet pussy. It will be their little secret.
07/14/2017 12:00 AM
My Dirty Little Geek: Part 1 - Angel Smalls & Lucas Frost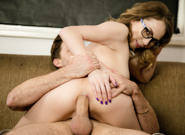 Holly Hendrix and Angel Smalls are best friends. They both work in a comic book store. They are always there even when one has the day off, she will come into help. They love comic books. The only thing Angel dreams about is her boss Lucas Frost. She never had the courage to tell him to him. But today she will have to go in the back store with him to do inventory. It's her chance to get exactly what she wants! She lays the moves on him and gives him her tight teen asshole. Showing him that she excels best at blowjobs while on the job! Lucas loves this side on the angel who would have thought this comic geek is a slutty little freak behind the scenes!
07/12/2017 12:00 AM
Ride It - Sami Parker & Will Banger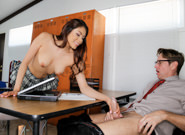 Cute little Sami Parker will do anything she can to up her grades. She needs to get from an F to an A in order for her father to buy a car for her graduation gift. The only thing she can think of is to tease her professor Will Banger with her gorgeous body until he's vulnerable enough to give her a pussy slamming in exchange for top grades!
07/09/2017 12:00 AM
Fuck Me Instead! - Audrey Noir & Brad Sterling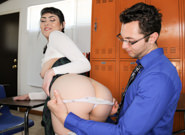 Audrey Noir questions Professor Brad Sterling as to why he broke up with her mother. She teases him and taunts him with her young body. Seducing him and explaining how maybe he needs to be fucked by her instead. Brad tries to resist her young tight pussy but it isn't long till his cock is deep inside her! Giving her straight A's in school and in sex!
07/06/2017 12:00 AM
Give Me an A! - Dolly Leigh & Donnie Dakota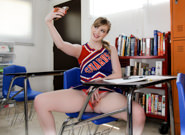 Cheerleader Dolly Leigh is in trouble with her teacher Donnie Dakota for behaving inappropriately. She finds it humorous and isn't at all intimidated by him. She decides to make things even more inappropriate. Giving him a little cheerleading spirit by gagging on his cock and letting him give her young pussy a pounding! Dolly knows just how to misbehave but still keep her grades up at the same time!
07/03/2017 12:00 AM
Sorority Sister - Tommy Gunn & Whitney Wright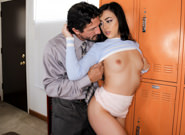 Whitney Wright has to get a kiss from a professor if she wants to get into her sorority. She decides to seduce Tommy Gunn the hottest professor on campus. Instead of just getting a kiss from him. She takes advantage of the opportunity and sucks on his massive cock. Letting him fuck her hard on the school floors, till he bursts with cum all over her. Whitney may be a little shy but when she wants something she will do whatever she can to get it!
06/16/2017 12:00 AM
Let Me Cheer You Up - Ryan Ryder & Cadey Mercury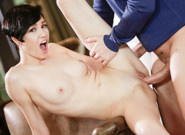 Cadey Mercury is a young cheerleader walking home on the side of the road. She's been having a bad day. She wants to hitchhike, but she's feeling uneasy about it. Ryan Ryder passes by her on the road, when he sees her face he decides to stop. Cadey doesn't really feel like talking, but she doesn't really want to walk all the way home either. She explains to Ryan how her boyfriend broke up with her because she didn't want to have sex with him. It's not because she doesn't like him or because she doesn't like sex. It's because she's scared and feels like she's not good at it. Ryan tries his best to cheer her up. He drops her off in front of her house, since her parents aren't home she invites him in and decides to give sex another try. She lets go of all her insecurities and sucks his huge dick like never before. Giving him her tight tiny pussy, to fuck into orgasm. All she needed was to let go of the good girl and embracing her inner slut to realize how good she actually is at fucking !
05/26/2017 12:00 AM
Show me Those Curves - Dana Vespoli & Jenna Foxx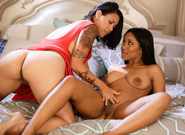 Jenna is heartbroken when the boy she likes blows her off for another girl. Her sexy stepmom, Dana, is ready to soothe the sweet teen and give her some motherly advice,sure to bring all the boys their knees. Dana will teach Jennahow to confident and sexy. First, Jenna needs to remove the boggy clothes and show off her hot body and big perky tits. Next, Dana shows her how to seduce with her pouty mouth and doe eyes. Dana's final lesson is all about how to tease... covering the horny teen with kisses, leaving her begging and moaning for release till her stepmother finally dives on her pussy as they finger and lick to explosive orgasms.
05/12/2017 12:00 AM
The Pleasure Of Anal - James Deen & Ziggy Star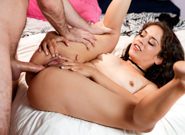 James leaves his tablet out for his stepsister Ziggy to discover...with his favorite porn playing! The curious teen is getting off while watching until anal starts up and James finds her looking scared. Being the helpful stepbrother he offers to teach his sister how to relax and enjoy some anal action. Ziggy goes from first-time ass fucked to total ass wrecked pornstar that can't get enough of James dick deep in her backdoor. She loves it!